Today we had the pleasure of meeting an Awesome girl, Lily Patterson.
Lily is an 11 year old student at Colorado Early Colleges. She is doing a school project about human strength and perservence, and she chose Nick to represent!
We had a great time chatting with Lily, and learning more about her family. Her mom, Laura, generously shared pictures with Nick of the whole Patterson family!
We are excited to be visiting Lily's school in the near future to watch her present, and do an Awesome in Action presentation of our own!
Thank you, Lily, for letting Nick contribute to your project!!
…and don't worry about the lack of green. No pinches for Lily, she has on green nail polish!!
…she's a clever girl!
In order to make change, we must first ensure that others are aware of differently abled people.
What better way to do this than through media?; movies, shows, music, and books all help people connect with a character in a story, and empathize on a human level.
A company in the United Kingdom, Inclusive Minds, is empowering young children with special needs to use their voices in order to create change through literature.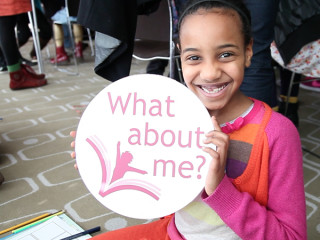 Young Embassadors for Inclusion is a group of kids who are being trained to speak out about their disability. They are becoming a knowledge base for authors, illustrators, and publishers to reference when writing about differently-abled characters.
Please consider making a donation to this amazing organization! We here at Awesome in Action love to see others that are on the same page as us!!