Category Archives:
libraries
When asked to describe teacher Judy Tessier, Nick hikes his arm up to his speech device and begins typing words like:  "Funny, like, teacher, funny, makes laugh, fun."  This is how Nick begins to formulate his raw thoughts as he reflects upon his time working with Judy.
Nick has been so fortunate to meet and watch this dynamic community educator in action.  Loveland's young children are extremely fortunate to have Judy and her cohorts as public educators here.
Judy has worked the last two years at the Monroe Early Childhood center.  Judy's work with children includes teaching both Gifted & Talented groups, as well as Special Education classes.
A 30-year veteran educator (BA-Art Education), Judy taught in Massachusetts until a couple of years ago, and is the person responsible for all of Nick's crazy costume moments during her literacy events with the Center over the last couple of years!
Judy has been married 31 years, has two grown children and one grandchild, and has lived the last 10 years in Colorado.
What a creative, fun, funny and Awesome Advocate for all children in Colorado!
In order to make change, we must first ensure that others are aware of differently abled people.
What better way to do this than through media?; movies, shows, music, and books all help people connect with a character in a story, and empathize on a human level.
A company in the United Kingdom, Inclusive Minds, is empowering young children with special needs to use their voices in order to create change through literature.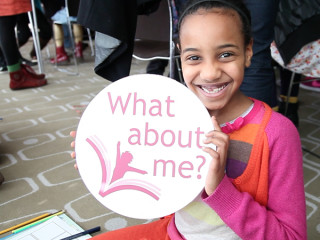 Young Embassadors for Inclusion is a group of kids who are being trained to speak out about their disability. They are becoming a knowledge base for authors, illustrators, and publishers to reference when writing about differently-abled characters.
Please consider making a donation to this amazing organization! We here at Awesome in Action love to see others that are on the same page as us!!